Bankruptcy (Creditors Only), Preference Claim Defense, Non-Bankruptcy Workouts and Non-Bankruptcy Liquidations
Bankruptcy
Mr. Higgs has practiced bankruptcy law for over 28 years, and is a co-author of the Virginia Lawyers Practice Handbook, Bankruptcy Practice in Virginia, published by the Virginia Law Foundation. He is Board Certified in Consumer Bankruptcy Law by the American Board of Certification.*
Our bankruptcy practice is limited to representing creditors. We are prepared to handle the most sophisticated issues arising in the bankruptcy arena, with experience ranging from the recovery of assets in Chapter 7 and Chapter 13 consumer bankruptcy cases to the most complex issues involved in Chapter 11 business reorganizations and liquidations.
We regularly appear on behalf of our clients in the United States Bankruptcy Court for the Western District of Virginia, where the Court sits in Abingdon, Big Stone Gap, Charlottesville, Danville, Harrisonburg, Lynchburg, Roanoke and Staunton. We also regularly appear in the United States Bankruptcy Court for the Eastern District of Virginia, either in person or through a network of highly experienced local counsel.
Consumer Bankruptcy Cases
We have very efficient and economical procedures for protecting creditors' rights in consumer bankruptcy cases, including motions for relief from stay, objections to confirmation, and other issues that routinely arise in consumer bankruptcy cases in Chapter 7 and Chapter 13. We represent a number of large, national creditors, both as general counsel and as local counsel for other firms, and we have one of the most active creditors' rights practices in the Western District of Virginia.
In non-routine cases, we have litigated issues including dischargeability complaints, denial of discharge, fraudulent conveyance actions, and the defense of attacks on the creditor's secured position.
Click Here for a brochure published by the Virginia State Bar entitled "The Bankruptcy Process"
Business Bankruptcy Cases
We have represented creditors in virtually every major Chapter 11 bankruptcy case that has been filed in the Western District of Virginia over the past two decades, including Antaeus Energy Corporation, Harman Mining Corp., Fitness and Wellness Solutions, Inc., Quorum Radio Partners of Virginia, Inc., RBX Corporation, United Home Health Care, Inc., WDRL-TV, Inc., Barber & Ross Company, Red Birch of Martinsville, Inc., and Xinergy Ltd. We have also actively represented our clients in many Chapter 11 cases filed in the Eastern District of Virginia, including most of the so-called "mega-cases": Computer Learning Centers, Inc., Heilig-Meyers Company, Movie Gallery, Inc., The Rowe Companies/Rowe Furniture, Inc., Storehouse, Inc., and AMF Bowling Worldwide,Inc. -50775-FJS
Large business-related Chapter 7 bankruptcy cases are the exception rather than the rule, and are often the end of a long, failed attempt at reorganization through Chapter 11. We have also been involved in most major business-related Chapter 7 cases filed in the Western District of Virginia, including most recently the nationally-reported Peanut Corporation of America case. We have represented creditors in countless smaller business-related Chapter 7 cases.
We have also been involved in many complex "baby 11" and "big 13" cases involving individuals whose choice of which chapter to file their business-related bankruptcy case is driven by statutory debt limits. These cases present unique challenges, because they often include facts and legal issues that are atypical of other business-related cases.
While consumer bankruptcy cases comprise by far the majority of cases filed in the Bankruptcy Courts, business cases not only usually involve much more money, but they are also usually much more complex than even the largest consumer cases. We have the experience and the ability to guide and assist creditors in protecting their rights in business bankruptcy cases filed under either Chapter 7 or Chapter 11.
Preference Claim Defense
We are experienced in the defense of preference claim litigation, and have managed the successful defense of large preference claims that have been brought in a number of Chapter 11 cases filed throughout Virginia, including Computer Learning Centers, Inc., RBX Corporation (Tultex), Storehouse, Inc. and Barber & Ross Company; and even in cases filed outside of Virginia involving Virginia creditors, such as Oakwood Homes Corporation, filed in Delaware, and Grumman Olson Industries, Inc., filed in the Southern District of New York.
Preference claims are at best confusing and at worst unfair. First, the debtor files bankruptcy, usually owing you money. Then, as much as two years later, you get a letter demanding the repayment of the money you received from the debtor before it filed, usually coupled with a settlement demand and the threat of a lawsuit! Fortunately, the 2005 BAPCPA amendments improved the ability of creditors to successfully defend these cases. Please contact us for an evaluation before you make any agreement to repay or even to settle a preference claim.
Non-Bankruptcy Workouts and Liquidations
We are also prepared to assist our creditor clients concerning non-bankruptcy loan workouts, from business reorganization to orderly liquidation. We have advised creditors in non-bankuptcy "Chapter 11s" that have in some cases survived for years, and we are experienced in the UCC-compliant closure and liquidation of failed businesses.
Fees
While most bankruptcy matters are handled on an hourly fee basis, many routine bankruptcy-related legal services may be provided on a fixed fee basis. All of our bankruptcy-related legal services include, where appropriate, a thorough review of the bankruptcy court file, attendance at the Section 341 creditors' meeting, and preparation of a written report to the creditor. Please call, write or email for a copy of our bankruptcy fixed fee schedule.
Your lawyer should be Board Certified.
Mr. Higgs is Board Certified in Creditors' Rights Law and in Consumer Bankruptcy Law by the American Board of Certification.*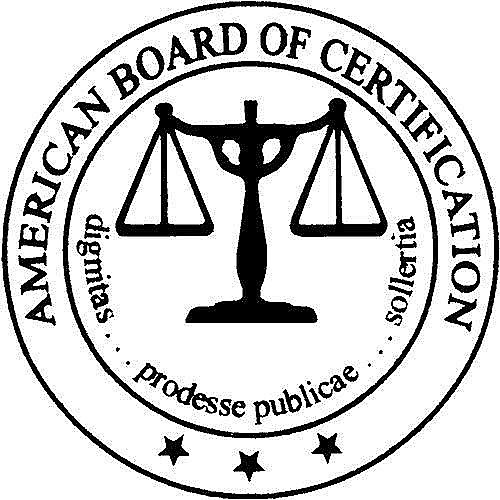 * Bankruptcy practice limited to representing creditors. The American Board of Certification is accredited by the American Bar Association to certify lawyers in the areas of bankruptcy law and creditors' rights law. There is no procedure in the Commonwealth of Virginia for approving certifying organization.

SM
Content Copyright © 2005-2016 by Steven L. Higgs and Steven L. Higgs, P.C. All Rights Reserved. "The Higgs Law Firm" and the pillar logo are the registered Service Marks of Steven L. Higgs, P.C. No claim is made for exclusive use of the words "law firm" apart from the service marks.